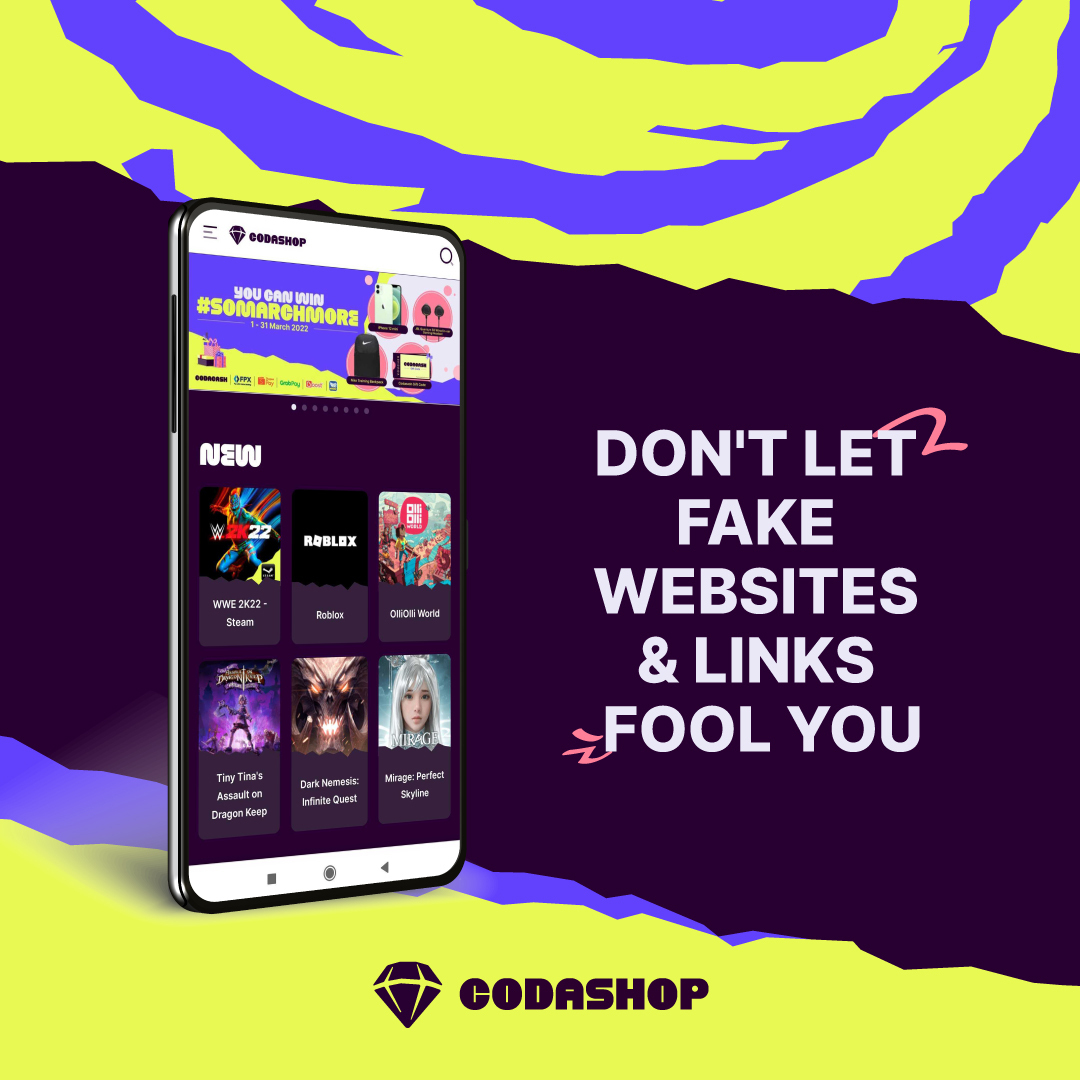 Don't be a scam victim, Codashoppers! Keep reading to learn how to protect yourself online.
Why did I get scammed?
Scammers usually begin with an email, SMS or instant message that looks like it's from Codashop that includes a link that directs you to a fake website if you click on it. Codashop would never ask for your personal information such as mobile number, activation code, one-time password (OTP), bank password or e-wallet pin over email or SMS. Once your details are exposed, these scammers can make unauthorized charges to your credit cards, contact numbers or e-wallets.
Common fraud or scams
One of the most common reports that we received is phishing sites that offer prizes by entering a phone number in the name of a Telco. It's important that you identify potential phishing attempts to avoid financial loss. If you believe your payment details have been compromised, please contact your bank, telco company or Codashop immediately to block your number.
Dramatic rise in family fraud
Family fraud is usually committed by a parent, child, sibling, or friend of the victim-trusted people who have easy access to personal information. It's becoming increasingly more common that a trusted family member would use the payment information saved to make online payments without the knowledge of the primary account holder. That's why it's so important to put safeguards in place, here's how you can prevent and fight friendly fraud:
Never share your One Time Password (OTP), device password or reset password link with anyone.
Turn on password settings for additional purchases made online or from mobile applications.
Do not link the child's gaming account to a credit card or mobile payment via direct carrier billing. If the child is buying gaming credits online, make sure they do so only on trusted e-commerce marketplaces, for instance, Codashop, trusted by millions of gamers globally!
Monitor your account for suspicious activity.
IMPORTANT: Never reply to phishing emails or submit your personal details into forms on fake websites. It can lead to your identity being 'stolen' – which might lead to money being taken from your bank accounts.
Here are some useful tips from our Telco and e-wallet partners in Malaysia:
Codashop Malaysia official platforms:
For further information or to report a scammer, please contact our customer support by following the instructions here.